A new addition to the collection has recently arrived, one I'm quite excited about. Captured alive from the wilds of geekdom, the VMM is now the caretaker of an elusive JLPGA PowerBook 170 in all its multicolor glory.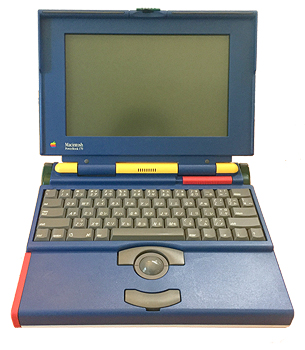 In 1992 Apple manufactured approximately 500 multi-colored PowerBook 170 models to commemorate the Japanese Ladies Professional Golf Association (JLPGA) tournament. This was during the John Sculley era so co-marketing promotions were common at the company.
The PowerBook 170 was quite a machine for it's day. This first generation PowerBook replaced the older Macintosh Portable with a much smaller, lighter design, 9.8-inch active matrix display, 25MHz 68030 processor, up to 8MB of RAM, 2.5″ SCSI HD and a built-in modem. It was a favorite for business and professional users, and the form factor lasted several generations.
Personally, I remember having my first case of PowerBook Envy lusting after a colleague's 170…
The JLPGA PowerBook 170 has the same innards as a standard PB170, this wasn't a high performance model. Rather its rarity derives from the color case and that fact that only 500 are known to have been made. Replacing the standard battleship grey components are a dark blue palmrest and screen bezel, white top and bottom panels, yellow hinges, red sliding panels and green rotating feet. It is similar to the multicolor Apple logo color scheme and is really quite striking in appearance.
Also unique about this PowerBook is the mixed Japanese-English keyboard. This was a promo item for Japan so you don't often see these kinds of keyboards outside that region. I'll need to find a Japanese version of System 7.1 to run on this puppy for completeness.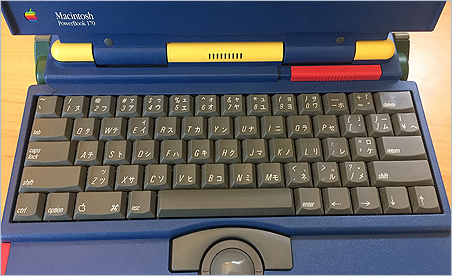 The hinged door panel which covers the rear cable ports (missing on my unit) is also red in color. However this panel is something which gets lost on nearly all 100 series Powerbooks, and with one exception every JLPGA PB170 I've seen listed on eBay is missing the red rear door. This frequently lost panel may literally be one of the most rare parts Apple has ever produced!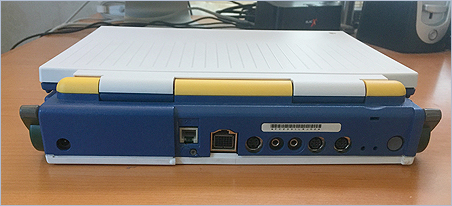 Like most PowerBook 170 models the VMM JLPGA experiences the infamous tunnel vision screen effect: after warming up the screen corners turn black and the display tunnels down to an oval window. Sadly this is a common problem on the 170 and no permanent fix is known.
As with all things, beauty is in the eye of the beholder. MacWorld magazine definitely appreciated it:
If you ever set your hands upon this colorful machine, you'll have yourself quite a prize… Apple must have had a field day picking the colors for this machine. It sports a mostly blue body with a white lid and base, red battery doors and contrast sliders, yellow hinge caps and trackball, and green elevating feet. Other than all that, it appears to be a relatively unassuming PowerBook 170.
However Fortune magazine disagrees, calling it one of the six ugliest Apple products ever:
More the product of a questionable color scheme than poor industrial design, this commemorative Mac is extremely rare. Some 500 were made in honor of the JLPGA golf tournament in Japan.
Beautiful or garish, the JLPGA PowerBook 170 is a rare beast in the Mac collecting world. I am very fortunate to have the opportunity to add this gem to my collection.