So it was quite a whirlwind of activity last week as the Macintosh turned 30. After browsing all the coverage and commemorative efforts dedicated to the occasion, here are a few standout things which I think are worth remembering and revisiting: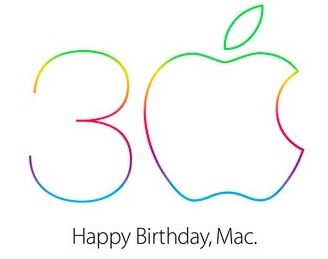 Apple: Thirty Years of Mac
Apple takes a moment to look back on three decades of their longest running product line. Creating a special mini website with commemorative video, a historical Macintosh timeline, and interactive polling and feedback, the Mothership finally reflects.
Yes indeed, the Post Jobs era has now officially begun.
CNET: The Macintosh Turns 30: Going the Distance
Dan Farber does a fabulous job documenting the birth of the Macs, its initial challenges, and the long road Apple and Steve Jobs' prodigal son have taken from 1984 to the present. Part of CNET's Mac at 30 coverage, it's extensively detailed and well worth a read.
iFixit: Macintosh 128k Teardown
iFixit, Cult of Mac and (yours truly) the Vintage Mac Museum join forces to create an insanely great teardown of the original Macintosh. See how it was all put together back in the day! iFixit notes:
Ye olde CRTs were a mixed bag for repair purposes—easier to access than today's tight-fitting flat panel displays, but boy were they dangerous if mishandled… Between the CRT and the capacitors, disconnecting this power supply sort of feels like disarming a bomb.
AppleInsider: Apple's Macintosh has forced the world to change for 30 years
A long and thoughful essay by Daniel Eran Dilger on how the Mac has evolved over time, continuing to innovate and impact computing three decades after its creation. Somehow the Mac is always on the Verge of Doom and going in the wrong direction, yet Apple is now stronger than ever!
Computer History Museum: The Very First 'Stevenote'
The first public exhibition of the Macintosh took place on January 30, 1984 at a meeting of the fledgling Boston Computer Society. The BCS videotaped the event, and former president Jonathan Rotenberg tells the tale of the remarkable demonstration – the world's first ever Stevenote!
Shrine of Apple: Celebrate the Mac
And last but not least, Jonathan Zufi (author of Iconic) turns his photographic eye to the Macintosh, and produces another beautiful gallery. Feast your eyes on photos like these of Macinti across the ages…