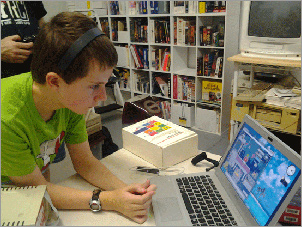 Back in the 1980s and '90s, Boston had a wonderful little resource known as The Computer Museum. An outgrowth of a personal computer collection first exhibited in a lobby at DEC in the 1970s, the Museum was a great desination spot for students, tourists, residents and computer nerds of all kinds. There were interactive computing exhibits, a giant walk-in Macintosh, and tons of history on display. Life Was Good.
And then in 1999, it disappeared.
Through a series of events and circumstances, the collection made its way west to Silicon Valley and began the next phase of its life as the Computer History Museum. A decade and a half later, it's now far bigger than its predecessor and one of the premiere institutions of its kind worldwide. A stellar effort, on the West Coast. For years the residents of Boston (some of us, anyway) wondered if such a thing would ever return…
Enter Digital Den. This nascent effort is envisioned to be a large scale celebration of 50 years of computing history. From vintage systems of the '70s to brand new equipment and prototypes, all of the hardware, operating systems, application software and content titles will be kept functioning in their original "living" state. The goal is to have hundreds of computers running thousands of software titles, and become one of the largest computer archives in the New England area.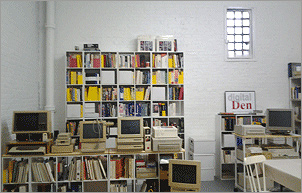 Digital Den will be a non-profit organization, with the working collection made available for researchers, students and the general public to enjoy firsthand. Mary E. Hopper, Ph.D., is the founder of Digital Den and has an excellent background to spearhead this effort. Dr. Hopper served as President of Knowledge Foundry, was a Senior Lecturer in Digital Media programs at Northeastern University, an Assistant Professor in Technology in Education at Lesley University, and a Postdoctoral Associate at MIT.
Bringing a computer museum back to Boston is something I believe in. For a high tech area it's embarassing that we don't have a computing museum in our hometown, particularly one that's hands on for visitors. Right now the collection is housed in a small room at the iconic Metropolitan Storage Warehouse in Cambridge, MA, right next to MIT. The next step is a larger room, an expanded collection and more operating hours. The Vintage Mac Museum supports the effort to get Digital Den off the ground, and I will be working to help make this a reality. Some VMM equipment may even occasionally be on display for your viewing pleasure!
Like many other startups, right now the most important thing needed are startup funds. Dr. Hopper has started an Indiegogo campaign to raise money, please visit http://www.indiegogo.com/projects/digital-den-org to find out more and support the effort today!
Photo Credit: Digital Den