Regular readers of this blog know that I've found many of my old Macs at the MIT Flea in Cambridge, MA. This geek flea market happens April through October on the third Sunday of the month in a parking garage on campus. It's not an official MIT sponsored event, started out as a ham radio swapfest decades ago. These days you can find old tech of all kinds and ages, from vacuum tubes to SSD drives. I decided to take a few photos today of some of the old Macs around to give a flavor of what you can find.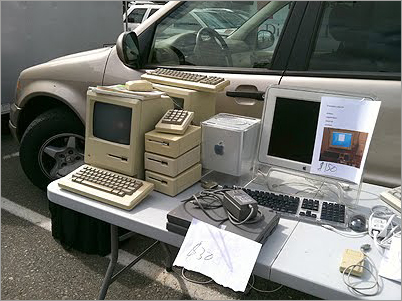 One fellow had quite a range of things, a few compact Macs (including a 128k, which was unfortunately already sold), a Cube and some PowerBooks. People have tables and boxes full of cables, cards, RAM and peripherals; some work, some don't, most are dirt cheap. iBooks of all kinds always seem to be popular, as do iMacs, books, software, cases. It's hit or miss, but usually something to find. You know a particular model of Mac has hit the point of no resale value when they begin to show up at the MIT Flea in large quantities. These days G5 systems are nearly valueless on the market.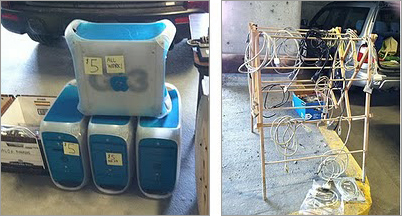 $5 for G3 towers – how can you go wrong? I try to hit this whenever I can. If you're ever in the Boston area when a Flea is happening it's worth a trip. But be warned – some people here really don't get out much!