A nice reminder this week of the value of old Macs, and a bit of crossover between Current and Vintage Macintosh computing. Always an enjoyable Low End Mac experience!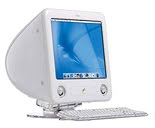 I recently acquired several old Macs while working with a client, one of which was an eMac. The eMac is a very capable G4-based system, the descendent of the G3 iMac. Originally designed for the education market (hence e-Mac), it was a good price/value configuration for under $1000 and Apple sold millions to consumers.
Compared to the iMac it's a rather subdued design, and heavy with a built-in 17″ CRT monitor, but it's built to withstand abuse. This specific eMac had the tilt/swivel base option, which is quite practical and substantially improves the visual aesthetic of the system. We Mac nerds care about such things…
I reformatted the drive and installed Mac OS X 10.4 "Tiger" along with OS 9 for Classic and iLife '06. This combination runs very nicely on a G4 and provides compatibility with a wide range of old and new Mac software – run Classic apps side-by-side with modern versions of Mail, Safari and Firefox.
At about the same time, another client asked if I had any old Macs available for an associate who needed a functional computer for her family's use. Basically just internet and word processing, but she had a limited budget. eMac to the rescue!
We got in touch, and I offered to sell the computer for $100. She asked "why so cheap?" I said that's about what they're worth, and I'm just happy to see it go to a good home. Turns out video editing is one of her hobbies, so having a copy of iMovie and iWeb (along with FireWire ports) was very welcome. A 1GHz G4 running iMovie HD (version 6) is nothing to sneeze at, lots of good work has been (and will be) done on such a platform.
She stopped by one morning this week to pickup the computer. The next day I got this email:
Thanks for the eMac. I am in love with it. I have an external hard drive with video footage on it I forgot about so I will be having fun soon editing.
What one person has outgrown, now provides options for somebody else. There is room at all levels in the marketplace for Macs of all ages. A toast in praise of the $100 computer!
One response to "In Praise of the $100 Computer"