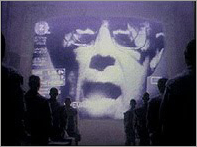 Today I'm happy to announce Vintage Mac Museum TV, a new addition to the VMM website. Over the years I've acquired a lot of Apple marketing and promotional materials related to the Mac, in addition to the systems themselves. As we know Apple excels in this field, and much of their advertising remains impressive and enjoyable many years later.
I have copies of old Apple ads and promo videos loaded and running on various Macs in the collection. Since the website tries to give a virtual sense of the collection, I've created a VMM TV Channel on YouTube to share these spots, and updated many of the site entries with links to relevant ads and videos.
Watching these as you read though the history of the Macintosh is very entertaining. It reminds us again of the impressive achievements – and sometimes arrogance – of Apple throughout the years. Pieces include the seminal
1984
launch commercial,
inspirational
spots for 68k Macs like the
Quadra
, whimsical spots for the iMac and PowerMac, the Switch campaign with Ellen Feiss (of course), and PowerBook ads over several generations.
The
Classic Macintosh Ads playlist
provides a pre-loaded tour through the spots linked from the site. I've also posted additional ads and videos which can be browsed on the YouTube channel.
Most of these items are available elsewhere, a few are somewhat rare. Nice to have them in one place. As with the collection itself this sampling is meant to be representative, not comprehensive – not all ads from all campaigns are included. I plan to add more from time to time, along with other continuing efforts to keep the VMM site fun and relevant.
Here's to the Crazy Ones
. Enjoy!