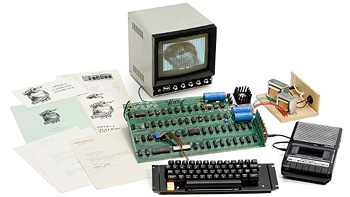 For years the most valuable Apple collectible has been the original Apple 1. Only 200 of these groundbreaking computers were produced, and it's estimated that less than 50 remain worldwide. Auction prices for working systems have been in the six figure range for the past few years, with one hitting $671,000 in Spring 2013.
Now, the most valuable torch is passed. At a Sotheby's auction in London this past weekend, a one-of-a-kind Product (RED) Mac Pro was auctioned off to benefit The Global Fund charity for an astounding $977,000! The "trashcan Mac" has yet to even go on sale, but one lucky (and wealthy) buyer can try their's out immediately – and in high style.

The Global Fund fights against AIDS, tuberculosis and malaria. Certainly a worthy cause, and the highest price ever fetched by a personal computer. The bragging rights for this rare collectible are considerable!