Reading data from old Mac disks and drives is one of the services I offer at Oakbog, I add new formats to the mix as needs demand (and costs are reasonable). Recently a client asked me what my current list was, so I spent a few hours doing an inventory of formats that I have available in the Vintage Mac Museum.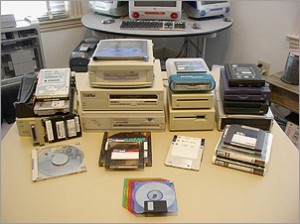 I pulled out all the drives to do a beauty shot. Here's the list as of April 2011 July 2012:
• Mac floppy disks: 400k SS/SD, 800k DS/DD, 1.44MB HD
• Iomega Bernoulli 5.25″ 230MB, 150/105/90/65/35MB
• SyQuest 5.25″ 44/88/200MB, 3.5″ 105MB
• Iomega Zip 100MB, 250MB
• Iomega Jaz 1GB, 2GB
• Magneto-Optical MO 3.5″ 2.3GB, 640/540/230/128MB
• Magneto-Optical MO 5.25″ 650MB
• Imation SuperDisk 120MB
• SCSI, ATA or SATA hard drives (2.5″ and 3.5″)
• CD-ROM, DVD-ROM, DVD-RAM 4.7/5.2GB
• Exabyte 8200, 8205 tapes
Amazing how many popular formats came from Iomega over the years, all variants of the original Bernoulli technology. Alas Jaz disks were never as reliable as the SyQuest or Zip formats, too many disk and drive failures.
The MIT Flea season is almost upon us in Boston again, soon I'll be scrounging the booths for more legacy formats forgotten by the masses. Often found here – and virtually nowhere else – for just a few dollars each!
One response to "Old Mac Storage Formats at the Vintage Mac Museum"