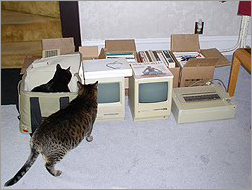 Acquired a major pile o' stuff for the VMM this week, donated by a Cult of Mac member who wanted to see his old items go to a good home. My favorite way to grow the Museum!
The batch included a Mac Plus and an SE/30 (neither fully functional but good for parts), an Apple ImageWriter I, MacWorld magazine issue #1 (in mint condition), a clean beige Mac carry bag with the Apple colored logo, and several boxes of old software, books and manuals.
My cats Fudge and Oreo helped me assess the goods upon arrival. A hearty thanks to Dr. Will Pitts of Auburn, MA for his generous contribution to the Vintage Mac Museum!