This past Sunday was the monthly MIT Flea, always a worthwhile event for geeks and a good source of old Macs for the collection. I picked up a PowerBook Duo 280c, a 68LC040 version of Apple's mid-90s sub-notebook, along with more old Mac floppy and Zip drives. I already have a Duo 230 but what caught my eye about this one was the sticker next to the screen: Ready for PowerPC Upgrade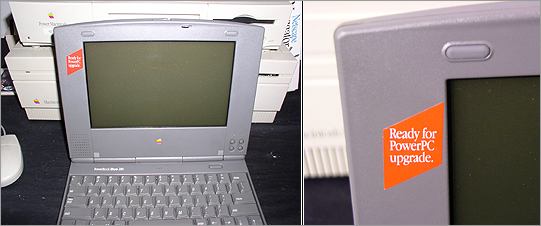 The 280c was produced from 1994-1996 and spanned the 68k to PowerPC transition. With PowerBooks at that time being so expensive (the 280c had a $3750 list price, and the 540c a whopping $4840!) Apple was sensitive to customer concerns about buying expensive dead end models, and so made PowerPC upgrades available for some systems.
I don't recall many people who installed these upgrades (they were also rather pricey), but it was nice that they existed. Similar upgrade paths were not available also available on some desktop Macs, or you could install a third party PowerPC 601 card in a NuBus slot – which seemed a bit like taking a shower through a straw, performance-wise…
No such options at all with the PowerPC to Intel transition. You need a new laptop or desktop, but fortunately Macs are a lot less expensive now.
Funny thing about that sticker. If I had purchased the laptop new I would have removed the sticker, as I generally do with all marketing drivel. Now all these years later the sticker is what I find most charming about this PowerBook. How perspectives change!
One response to "Ready for PowerPC Upgrade"