The Vintage Mac Museum is a private, working collection of the pre-Intel Apple Macintosh: 68k and PowerPC Macinti, old Mac software, period advertising and memorabilia. The VMM website has just undergone an extensive revision and expansion, designed to create both a virtual museum and a compilation of resources to help find information about old Mac hardware and software. The revised site has been organized around three major themes – Collection, Services and Resources.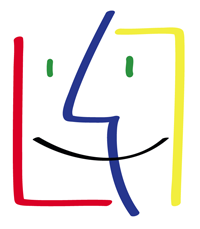 The biggest visual change is a beautiful new graphic design and back-end conversion to WordPress. Using a content management system allows for easy updating, correct formatting on mobile phones, and the merging of the main website with the Vintage Mac Museum Blog. The blog was formerly hosted on Blogspot, and all previous posts and comments have been migrated to the new site.
With this change we've embraced the classic Macintosh style graphics with a brand new VMM Logo, envisioning the Mac Finder icon done in the timeless Picasso style. It's simple, vintage, and very Macintosh! My little contribution to the rich graphical world of Apple…
The Collection pages (68k Macintosh, PowerPC Beige, PowerPC G-Series, PowerBook) carry over from the previous site and describe the Museum's possessions in a chronological story-of-Macintosh style. The Services section focuses on commercial areas of specialty for the Museum: vintage Mac file transfers & conversions, along with patent-related legal research finding prior art for technology related litigation. The Resources section is designed to be a growing reference for information about vintage Macs, as befits a Museum dedicated to the topic. Many links to Macintosh information, history and software downloads are available now, with more to come.
To enchance the Virtual Museum experience, pictures of the collection's equipment and memorabilia have been interspersed throughout the site, with high resolution photos now available via popup links. Video links to classic Mac and Apple advertisements, formerly on a separate VMM TV YouTube page, now also play via in-site popups.
The 2013 site expansion, logo design and WordPress conversion was done in collaboration with Chelsea O'Brien at Tech Diva Media. I highly recommend the talents of Chelsea and her team for your web design, SEO and internet marketing needs!
Check it out, look around, and Say Hello Again!
4 responses to "Say Hello Again! Welcome to Mac Museum 2.0"