The VMM took a road trip a few weeks ago, and journeyed down to the Jersey Shore to share some retro goodness at the Vintage Computer Festival East. The ninth running of the VCF East was held April 4-7 at the InfoAge Science Center in Wall, New Jersey, and the Vintage Mac Museum was an exhibitor.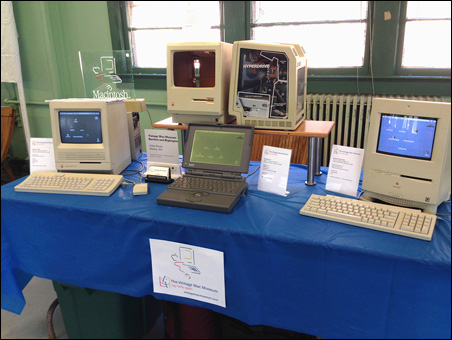 VCF East is hosted by MARCH, the MidAtlantic Retro Computing Hobbyists group. The show featured a wide range of computing history, from a seminal, room-size UNIVAC computer, through the DEC, Prime and HP minicomputer era, to the workstations and home computers of the 1970s and '80s. Apple made a good showing, including a number of Apple 1s, a few Apple IIs, one working Lisa 2 and several tables of Macinti.
At the Vintage Mac Museum table (next to the Univac), I showed off three working models that attendees could interact with – an SE/30, a PowerBook 170, and a Color Classic. Based on comments received I think every Macintosh owner over 35 once owned some variant of a Mac SE! Each system was also loaded up with the appropriate After Dark screen saver module – running the Fish module on the Color Classic makes a great Virtual Macquarium! In the back row was a Macintosh Picasso Dealer Sign, an empty compact Mac shell lit to show the signatures inside, and a Mac 512k with clear plexiglass side panels.
Definitely a fun (and geeky) event. Interest in the computers of yesteryear continues to increase, and is reflected in a growing number of vintage computing events around the country. To read more at about the show see Cult of Mac: Vintage Computer Festivals Rock On, VCF East 2014 Larger Than Ever.