As someone who works with vintage Macinti I get contacted occasionally by people who still have files on the hard drives of their old Macs but aren't sure how to move them to a newer machine. These are typically SCSI-based systems with floppy drives. They might also be early iMacs or other models without FireWire.

Sometimes the old Mac is still working, sometimes not. As long as the hard drive itself isn't damaged you will be able to get your files but the method will vary.
Assuming the old Mac still works and has ethernet, copying across your local network can be the easiest solution. File Sharing will work between Macs as long as they have compatible versions of AppleShare. The older system needs AppleShareIP, which means it must be running Mac OS 8 or higher at least System 7.5.3. For more on how to network across generations, see Vintage Mac Networking and File Exchange.

FTP is another option which works across a wide range of Mac OS versions. Mac OS X has a built in FTP server, which you can enable under System Preferences –> Sharing; turn File Sharing on, then click on the Options… button to enable FTP access. Alternately, you can connect over the Internet to an FTP server you have access to.
On the old Mac you can use Fetch, Anarchie or other FTP software to post to the server. Versions of these programs go back to the earliest days of Mac System Software and work over ethernet or dialup modems. Good things to have around.
Using the Internet you may also be able to transfer your files with a web browser to a site that has upload/download capability. The limiting factor here is likely to be whether the browser on your old Mac will support this feature – it sometimes requires plugins or versions of Java/Javascript that the old software can't run. The newest browser you can run on your system is recommended for best results, but its worth a try with whatever you have if necessary. UPDATE: Classilla is a port of the current Firefox web browser and is recommended for Mac OS 9 users trying to get online.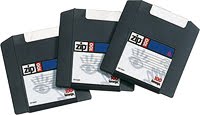 If network transfers aren't an option Zip disks make a good interchange medium. Internal Zip drives were offered as options on Macs for years, and external drives are available in both SCSI and USB flavors. Simply copy your files to a disk from the old machine, then read them on the newer machine.
I'll bet you or somebody you know has an unused Zip drive in their closet or bottom desk drawer right now!
For Macs that have USB ports (original iMacs, old PowerMacs with USB PCI cards, etc.) you can copy data to a USB hard drive or flash drive for the transfer. However these are likely going to be the original USB 1.1 format which is rather slow, so expect to wait a while (possibly hours) if you have a lot of data.
When none of the above work or if the old Mac won't start up, and if you feel comfortable working inside your computer, another option is to open up the machine and pull out the internal hard drive. The drive can then be installed in an external enclosure and connected to another Mac.
For SCSI drives you'll need another SCSI based Mac, preferably one with network access or a Zip drive to serve as a bridge machine. This can be an obstacle unless you have multiple old Macs lying around (or are crazy enough to be a collector…) You can also try using a PCI SCSI card in a PowerMac, or a USB to SCSI adapter (these are a bit rare, but some were made).
Internal IDE drives (G3 iMacs, Beige G3 PowerMacs, etc.) can be installed in external enclosures with FireWire and/or USB ports for direct connection to modern machines. They can also be installed internally in a G3 or G4 tower. Since they are about a decade newer in the Mac timeline IDE drives are typically much easier to work with than SCSI drives, and can often be reused with the newer machine.
Some additional tips thanks to reader feedback:
Dan Knight at Low End Mac writes: You can also transfer up to 1.4 MB of data at a time using floppy disks. All Macs produced since 1989 support high density floppy drives, and external USB floppy drives let you access the disks from your modern Mac. It's not fast and doesn't hold a lot of data by modern standards, but it works. Note that USB floppy drives cannot read 800K Mac floppies, they are compatible with high-density Mac and PC floppies, as well as 720K PC floppies.
Steve Lubliner writes: One method to consider to transfer files from older Powerbooks with card slots (e.g. 5300 series) is to use a card slot adapter and a Compact Flash card (or similar memory card). The older Mac files can be transferred to the memory card and the card read by a newer Mac (or PC) with a USB card reader.
—–
The Vintage Mac Museum offers file transfer & conversion services for those who need assistance moving their Macintosh files or converting the data into more current formats.
—–
29 responses to "Getting Files Off Old Macs"