In the Macintosh community, old Macs are special, personal. There was always something notable about being a Mac user, whether in the 68k Glory Days, the Beleaguered Apple Computer era, or early in the Second Jobs Dynasty. Our Macs weren't just tools but visceral parts of our lives. Electronic friends. We sacrificed to afford them, and sacrificed to keep using them in the face of adversity. As such you don't want to just dispose of your old computer, you want to see it to go to a good home.
Mac friend, I was just about to take a bunch of older Macs to the dumpster or to Goodwill. Are you interested in anything more for your museum? Thanks for what you're doing to keep antique Macs alive.
Mac users go out of their way, often at their own expense, to help make this happen. Old technology does not necessarily mean obsolete. The Vintage Mac Museum tends to get several emails per month from people with old Macs looking for new homes.
I have been a devoted Mac user since 1988 and have every piece of Mac hardware that I have ever purchased. I detest the thought of discarding this wonderful (but vintage) hardware in the recycle bin. If you have a need for [any of this] I would be willing to give them away.
Do you know of a good home for this printer? I have the original box and packaging. I will donate it as I don't think it would be worth a whole lot of money. I just put a new cartridge in it back in the winter. The things we Mac people will do… :)
By definition museums have an interest in giving good homes to old things, and I've probably acquired more than half of my collection in this fashion. This week I received a large donation of items from someone not wanting to see their historical importance nor his collecting efforts go to waste.
Joe Story started as a Mac user back in the late 1980s with a Macintosh Plus. The Plus was perhaps the truest incarnation of the original Macintosh design, utilizing the iconic compact form factor and breakthrough graphical interface but finally having enough RAM (1MB) and disk storage capability (via SCSI hard drives) to make the thing actually useful.
Over time Joe's appreciation of the significance of the original Macintosh increased, along with related hardware and software of the period. He began to collect Apple items from the mid 1980s, a piece here and there. Eventually his collection included a Lisa, 128k and 512k Macs, rare early hard drives, vintage software, and a wealth of books detailing how to use and repair these old systems.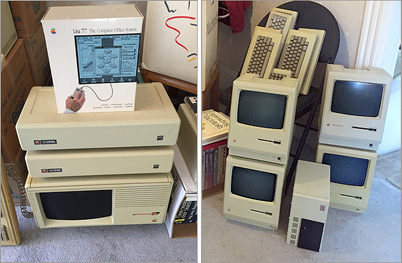 And after a while – like most collectors – he found he didn't have enough room for everything. Much of it wound up packed in boxes or kept in storage rooms. Yup, been there, done that!
A few weeks ago Joe learned that he had pancreatic cancer. It's incurable, and he doesn't have long to live. Understandably, this brings focus and clarity to one's efforts. Along with attending to personal matters Joe felt it was important that his archive of vintage Apple items go to a place where they could be appreciated and enjoyed, rather than recycled or otherwise disposed of.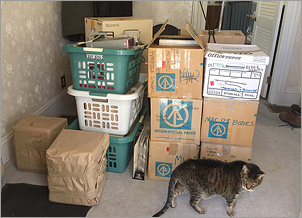 Serendipitously Joe and I live in the same area, and he knew about my collecting efforts. After a brief discussion we arranged to meet, and with his wife's help emptied out a few storage bins. Most of the items were boxed or wrapped, so we opened many of them up before loading into the car in order that Joe could experience everything again. Along the way we had a good chat reminiscing about computing days past and old Apple things.
Since my house is already overflowing with vintage Apple items, I try not to accumulate too much additional stuff. But this was a special case. My cat Fudge reluctantly gave his approval as I hauled everything inside.
The photo at the top of this post shows many of the items after unpacking. This is a serious collection of gear, which includes the following:
• a Lisa 2 with two ProFile disk drives, original Lisa mouse, Lisa Office System 7/7 and all manuals
• a Macintosh 128k with Tecmar serial hard drive, and a Mac 512k with HD20 floppy-based hard drive
• two Macintosh Plus models with numerous keyboards, mice, numeric keypad, etc.
• the original packing box for a 128k Mac, with all inner sleeves and numeric keypad box
• vintage boxed software from Apple, Microsoft, Lotus and other notable period vendors
• multiple boxes of books on using and repairing old Macs; 1983 Byte magazine introducing the Lisa
•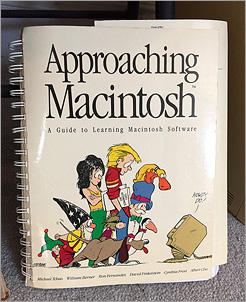 plus: a Mac training book with Bloom County artwork on the cover!
I am honored to take possession of these items, and be able to help under the circumstances. Some things will go into the Vintage Mac Museum, others will be passed along to others who can make use of or appreciate them. Apple geeks like myself will help propagate the lineage, and ensure that this gear does indeed go to good homes.
So thank you very much Joe, for your contributions to the collection. And all the best to you and yours. We wish you well.
6 responses to "I Just Want To See It Go To a Good Home"