One of my favorite Macs is the PowerBook G3 "Pismo", the final iteration of the black G3 lineage. The Pismo is a marvel of elegance, in terms of aesthetics, design and serviceability. It is very reliable and has been a favorite of Mac fans since it's introduction.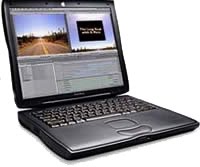 Until last weekend I only had one Pismo in the collection. In order to keep the VMM functional I try to have redundancy among hardware, but the Pismo is a popular machine; I couldn't justify the $150 price that a functioning Pismo typically sells for on craigslist or eBay, just for a spare.
Well I lucked out last weekend, spotted an ad on my local craigslist offering 3 Pismos for $125 or best offer. They were all listed as missing hard drives and power supplies. I offered $100 for the batch – wondering if anything else was missing – and the seller agreed.
It's a good thing I bid low. Only 2 out of 3 had processor cards, none had optical drives, no Airport cards, no RAM to be seen, plus the aforementioned missing hard drives and power supplies. Clearly these were some "stripped" models. When I got home (where I have the needed AC adapters) none powered on or showed any signs of life.
Sometimes you can get old "shelved" machines to revive by leaving them plugged in for a few hours or overnight, which recharges the internal PRAM battery. Alas after several charging sessions each, no luck with these systems.
I asked the seller for a partial refund, which – fortunately and atypical for craigslist – he agreed to. I then set out for some heavy duty strip down forensics.
The Pismo is wonderful to work on. (Note: Torx and Phillips screwdrivers required). Two latches pop out the keyboard, you remove a couple of heat shields, and everything is accessible. After lots of swapping and testing I found I had two good processor cards, one 400MHz and one 500MHz, plus a single 128MB PC-100 DIMM which had been hiding on the underside of one of the CPU boards.
Using a spare 30GB 2.5″ ATA hard drive I had handy, and borrowing the optical drive from my working Pismo, I eventually managed to get one of the three mutts to power on and boot from a Mac OS 9 install CD. I then formatted the internal hard drive using Drive Setup, copied over a full OS 9 installation from an external FireWire drive, rebooted and presto! One fully working Pismo.
Total purchase cost after refund: $60, plus a few evenings of bench testing and parts swapping. I'm pleased with the outcome.
Alas, no luck with the other two units, which will not power up at all. With luck the PRAM batteries are just dead, I'll have to try ordering some new ones. If not, well, maybe the screens still work.
But – I can now get the CPU board, RAM, hard drive and keyboard swapped from one Pismo to another in under 5 minutes! Try that on any Apple laptop made since!
UPDATE – PRAM Battery is the Key
Thanks to some tips in the reader comments, I've learned that completely removing a dead PRAM battery often allows a dead Pismo to boot from the AC adapter. I tried this on my two dead units, swapped in a drive and processor card, and indeed all started up and worked fine – fantastic! Thanks folks, the tips are much appreciated!
Other World Computing – a great resource for finding many old (and new) Mac parts – stocks replacement PRAM batteries for $28 each – ironically, about the unit cost of my three "new" Pismos! :)
One response to "Pismo – We Can Rebuild Him"