Back in the 68k era Apple used small form factor 2.5″ SCSI hard drives in the PowerBook 100, 500 and Duo lines of notebooks. Use of the SCSI format provided compatibility with desktop Macs of the same era and permitted the use of external SCSI Disk Mode – the precursor to today's Target Disk Mode.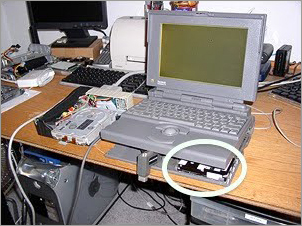 The 2.5″ SCSI form factor was not widely used throughout the industry, however. Most vendors (and soon Apple themselves) utilized ATA (IDE) drives. ATA remained the industry standard until SATA took over this past decade.
Occasionally somebody with an old SCSI-based PowerBook will contact me about transferring files from their old system. If their PowerBook doesn't boot, or the drive was previously removed from the computer, it becomes necessary to access the disk directly.
The scarcity of the 2.5″ form factor means that there aren't many ways to read old PowerBook hard drives without having to install them in another PowerBook. A few external SCSI enclosures were made for this size but they can be hard to find today. Installation is not super difficult in the old models, but it isn't trivial either. A sacrificial model is needed for the endeavor (I use a PowerBook 170, as shown). If the drive doesn't boot your PowerBook you need to startup from a System Folder on an external SCSI drive in order to access the internal disk.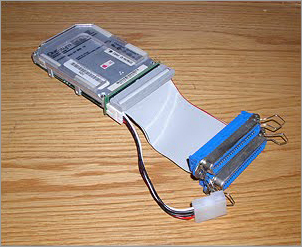 Another recent file transfer request got me searching for an external enclosure or adapter of some kind. After a fair amount of Googling I finally found a 40 54 pin (2.5″) to 50 pin (3.5″) SCSI adapter. This allows access to the smaller drives using a standard 50 pin ribbon cable and a 4 pin 5V/12V power cable.
I used the cabling from an external case to make an even more versatile adapter. The piece of ribbon cable has a 50 pin internal connector sandwiched between two external Centronics-style SCSI connectors. With this new rig and power provided by my external drive sled, I'm now able to connect old 2.5″ disks directly to my trusty Wallstreet's SCSI port and bridge the years without having to put my 170 into traction each time.
A much needed little adapter!
Update 2012: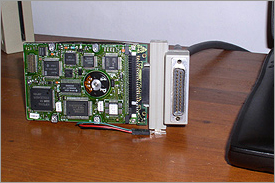 After posting this update I acquired an external disk enclosure for 2.5″ SCSI drives. Once you remove the covers from these enclosures the remaining circuitry forms an adapter (or "sled" if the bottom panel is still attached) to use to connect bare internal drives to external SCSI connectors – in this case a standard DB25 SCSI cable. This is smaller and easier to deal with than the hybrid adapter described above, and has become my main PowerBook data transfer drive tool. 2.5″ external SCSI disk enclosures are occasionally available on eBay.
35 responses to "Reading PowerBook 2.5″ SCSI Hard Drives"