The Color Classic is one of those Mac models which I remember appreciating when it was current but didn't feel it was worth the money. Putting a color screen into the original compact Mac case always seemed an obvious step, but by the time this model was released in 1993 the Mac II line had been out for several years and Apple was beginning to ship the Quadra/Centris 68040 based systems. Why would anyone want an underpowered machine with such a small screen?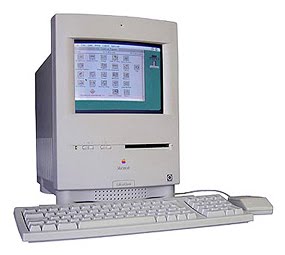 Fast forward twenty years and this little underpowered Mac has become a pleasant reminder of simpler times past. After a four year on-and-off process (mostly off), I finally have a working model in the Vintage Mac Museum, though it took some effort to resurrect.
Back in 2008 a friend of mine found a Color Classic sitting unloved in an antique shop down in Florida. I had recently bought a house and she knew I collected old Macs, so she bought the system for me as a housewarming gift. The unit did not work, it had been sitting for too long in a salty humid environment. The logic board was corroded and missing a few pieces. Still having lots to do with my move I put the Mac on a closet shelf and let it sit for a few more years.
Recently I decided it would be cool to see if I could get things running, but I didn't want to spend too much money on the task. Working Color Classics sell for about $300 on eBay, but logic and power supply boards sell for around $100 each. After losing a few auctions to last minute eBay "snipers" (I really hate this tactic), I found another board listed with a Submit Offer and arranged to purchase it for a fair price. As part of the arrangement I sent my old non-working board to the seller for him to repair and resell, so a good deal for us both.
The Color Classic, like the Performa 6400 & PowerMac 6500, has a wonderful slide out logic board design: remove a rear case panel and just pull the whole unit out. The designers of the Mac Mini should be forced to learn from these systems. I put in the new board, turned on the power switch at the rear of the machine, and… nothing. A faint whine from the unit, but no other chime or activity.
Bummer. Or so I thought. When mentioning this to the eBayer who sold me the board, he suggested my ADB keyboard or cable might be bad and the Mac wasn't getting the power up command from the power button on the keyboard itself. I blushed across the internet.
I had forgotten that this old model, like other Macs of that era, use both the physical power switch and the soft power switch on the keyboard. I pressed the keyboard switch and CHIME, the Mac powered up! Even experienced Mac folk sometimes forget the basics…
The Color Classic emitted a few slow beeps, then displayed the blinking folder with question mark. Ah, it just needs a new startup disk, that I can handle. I took the case off, laboriously extracted the old SCSI hard drive, and formatted a new drive. Mac OS Standard (HFS) format is required, 68k Macs can't read Mac OS Extended (HFS+) disks. Once ready I copied a working System 7.1 install from a Mac IIci to the disk, then installed the drive back in the Classic.
Chime, whir, happy Mac face (yay!), then an error: The version of System 7.1 installed on this drive will not work with this Mac. A newer version is required.
Strange, System 7.1 was the original software which came with this model. Since removing the internal drive was difficult I formatted another hard disk, installed System 7.6.1, and connected this in a case to the external SCSI bus. No dice, the Mac would not boot off the external disk. I tried System 7.5.5 – same result. I tried the System 7.1 and System 7.6 Disk Tools floppy disks, those too got ejected. I was stuck with a Mac which only wanted to boot off the internal drive, containing a non-working system.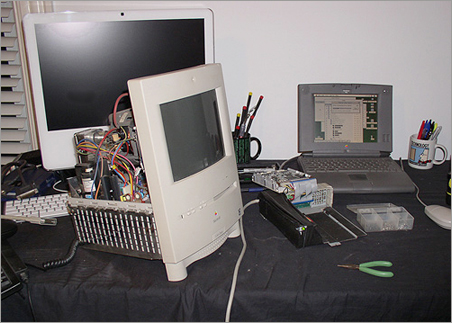 I asked myself how badly I wanted a working Color Classic, took a break, and had a few drinks (etc). Time to call it a day and resume troubleshooting tomorrow.
Eventually I figured out the issues. The external drive wasn't working because it was a 4GB drive, and in that era you needed a 68040 or PowerPC based Mac to read drives larger than 2GB. The Classic has a 68030 processor. The internal System wasn't booting because with System 7.1 you needed specific System Enabler files for different models of Macs. The Color Classic needed System Enabler 401.
With all the mysteries solved I re-extracted the internal drive, copied a new System 7.1 with the appropriate Enabler, and put everything back together. Chime. Happy Mac. Welcome to Macintosh. And then: the System 7 desktop on an adorable little 9″ color screen.
Wow, that was harder than I expected.
The Color Classic now sits on a different shelf in my office, with its brethren compact Macs the 512k, Plus and SE/30. After this ordeal I'm now somewhat fond of the little guy. I setup the After Dark screensaver to run the Fish module, it makes a nice little electronic Macquarium. Which is good, since my real Macquarium is still sitting unassembled in my front foyer – a project for another day!
29 responses to "Resurrecting a Macintosh Color Classic"