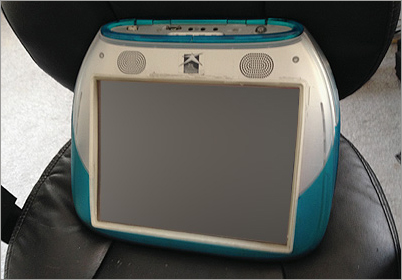 A new addition arrived at the Vintage Mac Museum this week, and it's a part of the Apple universe I never even knew existed before. Behold the Gemini iBook – a clamshell iBook G3 modified to be a touchscreen based Macintosh tablet!
Touchscreen computers using a tablet form factor have been around for a long time. Besides those ubiquitous UPS and FedEx signature devices, and PDAs like the Palm and the Newton, touchscreens have long worked well for assistive technology devices used by the disabled. Laptop monitors have been fitted with touchsceens for this purpose, but better still is a laptop that is converted into a one-piece tablet. A decade before the iPad, a clamshell iBook G3 was married with a touchscreen to create this fully functional tablet Macintosh. The Axiotron ModBook didn't appear on the stage until 2007.
The (now defunct) company Assistive Technology produced these systems back in 2001. The screen and keyboard of the iBook were replaced with an embedded touch sensitive display panel. A small peripheral interface board along the top edge of the computer sports a USB port (moved from the side panel), a mini-joystick port, a mini TRS input switch port, sound out and sound in headphone ports. The iBook retains the ethernet port, modem, and CD-ROM drive. A popup keyboard (a la iOS) is available to type directly on screen, or you can use an external USB mouse or keyboard. Speech recognition and synthesis software was originally installed, but this had been removed before I obtained the system.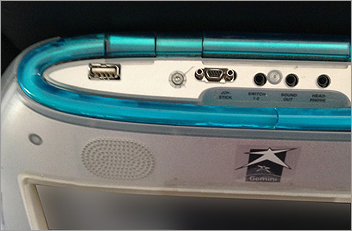 I stumbled across this puppy during a recent visit to Unicom, a well-stocked vintage Mac service and sales shop in Rhode Island. I've generally disliked the clamshell form factor and those garish colors – graphite excepted – but this modified unit in bondi blue actually looks pretty cool. This is a useful form factor to work with, quite small and compact (for the era). With more expansion ports than any iOS device and the full Mac OS running the show, it's actually a very capable computer.
My unit definitely shows some wear and tear – the handle has a few cracks, the display has some scratches, and the Gemini decal on the front is starting to bubble. But it still runs well on the original 3GB (!) hard drive and 160MB of RAM. I updated the installed Mac OS 9.0.4 to version 9.2.2, then loaded up Microsoft Office 98 and the latest version of the Classilla web browser. With more RAM the system could be configured to run Mac OS X, but I'm happy running the classic OS. The iBook Clamshell website has a video of the system running OS X along with pictures of the interior.
This may be one of the only Mac OS 9 based tablets in the world!
What a cool little system. Originally costing nearly $7500, it was a bargain in the clearance bin at $100. Now I just need something a little lighter – hmmm, how can I add a USB port to my iPad?
8 responses to "The Gemini iBook – a Mac OS 9 Touchscreen Tablet Mac"