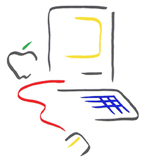 With most Mac collectors the beginning of one's collection is usually a rather random event. We have either been given or somehow acquired an old Macintosh, or decided to pickup a piece of our computing past. One model becomes two, then four, and soon the first space constraints emerge. Another Mac Collection is born.
My own Vintage Mac Museum (Boston, MA, US) had such roots, beginning in 2001 with the launch of Mac OS X. An old Mac Plus picked up at a flea market became a small circle of classic Macs, then a dozen 68k machines. Along the way, other collectors found me. Here are some fellow Cult of Mac members and their collections whom I've heard from or discovered in my travels:
Macca (Northwest Florida, US)
A comprehensive shrine to all things Apple from James Savage, co-host of the RetroMacCast. Many rare items and a great use of space. Bow to Macca…
The Proto Preserve (San Francisco, CA, US)
Henry "Hap" Plain's incredible collection of transparent Macs and rare Apple prototypes. As he says, a little byte different. Mere mortals lust after this stuff.
Apple Computer Collection (The Phillipines)
Philippe Poppe has assembled an impressive collection of Macs both common and rare, complemented by a beautiful website showing off the details.
Jim's Prototype Collection (Portland, OR, US)
James Abeles shares his amazing assemblage of unreleased Apple prototypes – transparent units, mockups, and concepts which never saw the light of day. You don't often find these gems on eBay…
a personal collection of all things Apple (UK)
"The collection started with a discarded early Mac Plus … In a few minutes had a fully functioning example of why Apple Computer gave the masses an opportunity to join the digital revolution."
tam – The Apple Museum (Newton, MA, US)
Another private basement collection, a sweet little space with lots of gear and old Mac/Apple resources.
All About Apple (Savona, Italy)
An Italian hands-on working collection and museum, they claim to be the largest computer museum in the world, containing nearly all of Apple's personal computers, peripherals, accessories, prototypes from 1976 to the present day.
Anton's Apple Museum (Moscow, Russia)
A working collection turned public museum, acquired through the trade-ins of old computer equipment over many decades. Vast and truly impressive. Offered as a response to Steve Jobs passing away in 2011.
Alex's Apple Orchard (Maine, US)
Alex and his family have assembled one of the largest Apple collections around. Great presentation and expanse.
—–
This page will be updated periodically with new collections, as I learn of more efforts. If you are a Mac Collector with an online presence, please contact me or leave a link to your site in the comments.
3 responses to "Mac Collections Around the World"