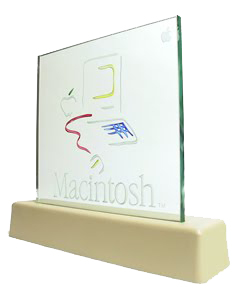 During rollout of the Macintosh back in 1984, Apple produced a limited edition promotional sign for the original Mac dealers. The sign has the now-famous Picasso line art along with the name Macintosh etched into a 10″ x 10″ piece of glass, manually beveled and painted. The glass was mounted on a beige plastic base containing an internal flourescent light, illuminating the glass from below. When switched on the sign sparkles like crystal and clearly announces that something new has arrived.
It's difficult to find out much information about these signs, other than that they were produced for the original Mac dealers. There's no record about who built the signs or how many were produced. Apparently each dealer was alloted only one sign. eBay auction listings have speculated between 25 and 1000 units produced, but the only solid info I found was part of Stanford's Making the Mac archive.
The Macintosh Product Introduction Plan noted that there were 1500 Apple dealers total at the time of the Mac's launch:
5.C Retail Introduction Plan

(b) reinforcing our commitment to our existing dealer base by offering to all 1500 current Apple dealers the opportunity to carry Macintosh. To become an authorized Macintosh dealer one must simply be a current dealer in good standing (exceptions will be determined by Sales & Sales Operations) and send a key Retail Sales Person (RSP) to be trained on Macintosh prior to public introduction.
Not all of those dealers carried the Mac, but at least half were apparently scheduled to receive a videodisc-based kiosk to help demo the product:
This demo-station will eventually be made available to all 1500 Apple dealers. Upon Macintosh introduction, at least 750 dealers will be stocked, additional dealers stocked subject to availability of videodisk players.
So an educated guess is somewhere around 750-1000 signs were made, with no more than 1500 tops. **
I wonder if those kiosks were actually produced?
The sign I have in the Vintage Mac Museum is working and in good condition. The paint has faded a bit after nearly thirty years in the field, but nevertheless the effect when lit is literally breathtaking. A gorgeous piece promotional media turned folk art, and something I'm proud to have in my collection!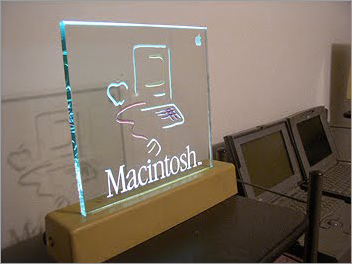 ** Update Dec 2016: since initially writing this post (in 2012) I've seen quite a few of these signs for sale on eBay, leading me to suspect that the 1500 estimate is probably too low. Recently developer Don Burtis included the following notes on eBay about how he obtained his, which supports this contention:
I received this sign as a token of Apple's appreciation for the hardware and software design my company did that benefited the Macintosh computer… I have no firm data how many signs might have been produced, but I'd guess it to be closer to 2500 rather than 1500. More signs must have been produced since Apple expected the dealer base to grow, replacements for broken signs must have been planned, some signs were used internally at Apple, and signs were given to some developers (such as me).
Burtis also noted that the signs were produced by Moonglow, Inc. of Fountain Valley, CA based on stickers on the bottom, but the company cannot be found today under that name. Too bad, it would definitely be nice to have more information about this iconic Apple item.
16 responses to "The Macintosh Picasso Dealer Sign"