At the dawn of the Age of Macintosh, several groundbreaking pieces of software were released into the wild along with the computer itself. MacPaint and MacWrite harnessed the power of the Graphical User Interface (GUI) and that new-fangled input device, the mouse, to bring powerful graphics and publishing capabilities to the nascent platform. These basic but seminal tools set the tone for decades of software to come and started the Mac down it's road as a Desktop Publishing powerhouse.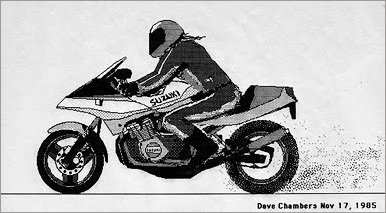 Over 25 years later most of the work done in these programs has been lost to history. Whether the data was never transferred to newer computers, stored on failed floppy disks, or just due to benign neglect, an important piece of our computing past is getting harder and harder to appreciate today.
In light of this I was pleasantly surprised recently to receive an email from Joel Cretan, who has just launched the website macpaint.org as an archive to preserve these black & white bitmapped images for posterity. He is currently looking for contributions. From his website:
When Steve Jobs introduced the Mac to Apple shareholders in January 1984 and they saw Macpaint drawings flash across the screen (along with more than a few other groundbreaking features), they cheered. Bill Atkinson's Macpaint turned any computer into an art studio. Perhaps more importantly, anyone who did not consider themselves a serious artist could make cool graphics on a computer.

The marching ants around a selection; the palette of drawing tools; the (rudimentary) ability to zoom in; the spray can; the paint bucket; copying and pasting images between programs; just moving the mouse and drawing: we take these for granted in the 21st century, but Macpaint did them first, with only 128k of RAM available.
It's remarkable how far things have come, but indeed the Paint Bucket icon is still with us several decades on! Browsing through the site reminds me of my college days, when all this was cutting edge. In the days of ASCII art, having a 512×342 pixel black & white bitmap to get your ideas across was a very cool thing.
If you have some of your own forgotten masterpieces that you'd like to share with the world for posterity, visit the site or contact Joel (at) macpaint (dot) org to make a contribution.
2 responses to "Preserving Old Mac Artwork at MacPaint.org"