The Macintosh Portable was Apple's first entry into the notebook market, but it's high price ($6500) and hefty weight (15.8 pounds) were major obstacles to market success. Before the Luggable was replaced by the PowerBook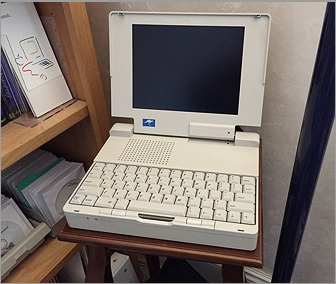 a number of third party options appeared, including the Outbound Notebook. An early Mac clone produced under agreement with Apple, it required a genuine Macintosh ROM pulled from a working (sacrificial) Mac Plus or SE. But even with that extra cost the Outbound was nearly half the price of Apple's offering ($3500), smaller, lighter (6.25 pounds) and faster.
The Notebook featured "swappable" hard drives, upgradeable processors (Motorola 68000 or 68030), standard desktop RAM, and camcorder style batteries (still available today). Rounding out the features were a microphone, speaker, headphone jack, two serial ports, an ADB port, and a SCSI port. Business and power users were pleased. And despite that kangaroo logo and down-under name, the company was actually located in Colorado, not Australia.
A unique feature of the Outbound was its pointing device, the TrackBar. Rather than a trackball or a trackpad, users slid a small bar left, right, forward and backward to move the cursor onscreen. Quite clever, I'm surprised this design wasn't more widely used.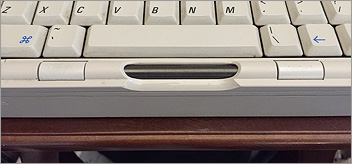 This Notebook required some effort to bring back to working order. That's true for most vintage computers. It didn't come with a power adapter, and requires one with rather uncommon specs: 22V, 1.27A. Every serious geek has a big box of spare AC adapters, but nothing in mine even came close to this. Fortunately the iRobot Roomba model 10556 power supply is a useable match – who knew? – and was easily found on eBay. (Thanks for the tip Matt!)
Once that hurdle was passed I discovered the hard drive was dead. Also not uncommon. The Outbound uses a 2.5-inch IDE hard drive, unlike the Mac Portable and PowerBooks which used SCSI drives. The drive is easily accessed by removing a side panel, but the bay which holds the drive is larger than the disk. This makes reinsertion challenging, as the drive pins can line up incorrectly with the holes on the connector if positioning isn't correct. A few careful attempts brought success, but I'd use the term "swappable" loosely.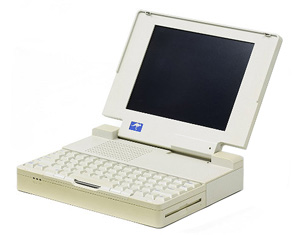 Using the system is interesting. The Outbound kangaroo logo is displayed as the startup chime sounds. Mine is running System 7.1 and utilizes two custom Control Panels (Notebook and TrackBar), and one Extension (Notebook Extension). The 9.7-inch "SuperTwist" LCD screen is nice and large, although the passive matrix display does display lots of ghosting. Adjusting brightness and contrast helps. The TrackBar generally works well, though I kept wanting to click on the bar directly rather than hitting the buttons on either side. The keyboard is serviceable, somewhat mushy.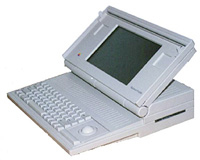 Not having palm rests – a feature introduced with the PowerBook – feels strange after all these years.
Like the Portable the Outbound has no power switch: pressing any key turns the system on. Maybe that seemed intuitive around 1990, but it doesn't today! Without a power button you need to remove the power cord and battery if it locks up, however you can soft-reboot using CMD-OPT-ESC. Apple systems use CTRL-CMD-PWR for this function.
Sitting at a table I think Apple Macintosh Portable is the more pleasant machine to work on, with a better keyboard. The Outbound wins on weight and size hands down.
This Notebook model (2030S) uses the 68030 processor. Since the ROM came from a Mac Plus, that makes for a very interesting display when viewing About This Mac or system information in a utility like Mac Envy. It's not everyday one sees a Mac Plus with 8MB of RAM, a 68030 processor and an ADB bus!
The Outbound was in many ways a better notebook than the Macintosh Portable, but the first PowerBooks appeared in 1991. These were sleeker, lighter, and less expensive (PowerBook 100). Unable to compete with the mothership, Outbound went out of business in 1992.
A big thank you to Kathleen Hepburn for her generous donation of the Outbound Notebook to the VMM. Your old friend has found a new life, and you won't have to move it again!
One response to "An Outbound Notebook Comes In From the Cold"