Most of the file transfer work done at the Mac Museum involves fairly common vintage formats – MacWrite, Microsoft Word and Excel, MacDraw, etc.. A recent request for assistance involved bringing some old music files back to life in a variety of ways.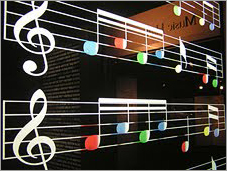 My client was a classical music composer who had his body of work in an old format called Professional Composer running on a Mac IIsi with System 7.1. The computer still ran but his old laserprinter had died, and he couldn't get a replacement LaserWriter 16/600 working with his system. Could I help him either (a) find the appropriate drivers to use his 16/600 with his Mac, or (b) find a way to convert his old files into a more modern format?
We set to work on the printer issue first. System 7 shipped with the original LaserWriter Chooser extension, but according to an Apple tech note the 16/600 requires the LaserWriter 8 extension. This is available from the Apple Older Software Downloads page. A variety of installers are available with slightly different version numbers, I had to peruse the various ReadMe files to see which would be compatible with System 7.1. LaserWriter 8.4.1 was the magic number.
The downloaded files are binary disk image files of the type filename.img.bin. Stuffit Expander will convert the .bin files into .img, then Disk Copy 6.1 is used create a set of floppy disks from the .img files.
Before mailing the disks to my client I installed the software onto my Mac IIci running System 7.1 as a compatibility test; all went fine and I noticed the 16/600 as one of the supported printers. I shipped out the disks.
A couple days, a few cranky phone calls and several emails later – an unexpected complication led to a corrupt disk 1 after starting the install – I was relieved to hear that the printer was indeed working with the old Mac. Music files could again be printed, leading to much rejoycing.
This left the second challenge, finding a way to convert the Professional Composer files to a more modern format. My client had heard that MOTU Performer could read Composer files. I have a copy of Performer v5 in my software library, so I asked him to send me a floppy disk with some test files.
Getting Performer up and running again on my Quadra 840av took a couple hours – find the box with the disks, run the installer, authorize my hard drive to run the software via the PACE activation process, then setup a new FreeMIDI configuration. Just like the good old days!
The efforts were worthwhile as my client's hunch was right. Performer can open Professional Composer files and convert them into Performer sequences. Better still, Performer could Save As into Standard MIDI format, which is widely supported among software of all ages.
I converted the test files to both Performer and Standard MIDI formats, then copied them over my network to burn to CD. Once I had the files on my Mac Pro running Snow Leopard I was able to use the Quick Preview mode of the Finder to listen to the Standard MIDI files right on my workstation – music from decades ago, coming to life across the generations! That was really delightful.
Overall this was a fun project, despite my client being sometimes unrealistically demanding. I'm a big fan of vintage technology myself, but it really is time to permanently retire the 20-year-old Mac IIsi and buy something newer!