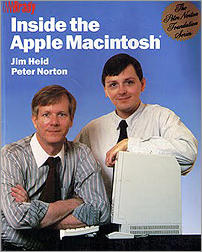 And in this case, it's authors: Inside the Apple Macintosh by Jim Heid and Peter Norton, 1988. Two names which have become legends.
Found this at the Flea. Peter "Dr. Utilities" Norton looks just like his photo (and animated avatar) from all those copies of Norton Utilities for Mac. His suave, cool certainty – and the tie – helped calm many a nerve when an Undelete was needed.
Meanwhile Jim Heid looks just out of college!
I had that same Mac SE. Those were the days…