Most of the file conversion work I do results in electronic output – converting MacWrite files to Word .doc format, or MacPaint files to JPEG. Occasionally I get requests to work with old software that doesn't have any kind of Save As… or Export option,

so the tried and true method of printing things to hard copy becomes the fallback method of last resort.
Recently I was contacted by someone wanting printouts of several HyperCard stacks containing her family genealogy. She was interested in entering the information into more current software, but needed to see the old stacks first. I have HyperCard so she sent the disks along.
Last year I inherited an Apple LaserWriter IIg into the collection, a somewhat ornery beast. I've gotten it working in the past but the printer has become cantankerous again, and now keeps jamming despite my best cleaning, coaxing, cursing and whacking attempts. I may need to find a replacement, or someone who still knows how to service these old behemoths. Meanwhile I had floppy disks in hand and had promised my client paper printouts.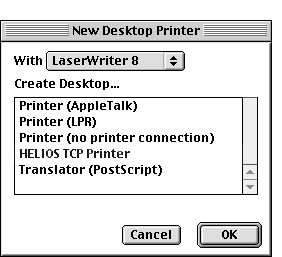 Having been faced with this dilemma before, I used the little-known Apple Desktop Printer Utility for Mac OS 9 to create a generic Desktop Printer with the output set as Translator (Postscript). This creates an icon on the desktop and makes the virtual printer available through the Chooser.
Once created you can open HyperCard (or any other software) and utilize the Print command or any embedded printing scripts. The printer output is a file named Untitled.ps on the desktop, which is easily renamed and copied to other computers.
PostScript files are useful things to have under Mac OS X, as Display PostScript is part of the system graphics protocol. The .ps files can be opened in Preview then printed directly from there, or – even better – saved to PDF format! Now instead of only having one hard copy and mailing that across country, I can email a PDF file which my client can open on her own system and print out as needed.
Desktop Printing without a printer. Who'da thunk it?
3 responses to "Desktop Printing Without a Printer"