Every collection has some truly unique or special items. These are things you show off to other collectors and tirelessly hunt down in your spare time. For the first time in many years I've expanded the Collection categories for the Vintage Mac Museum. Introducing the Rare Items page.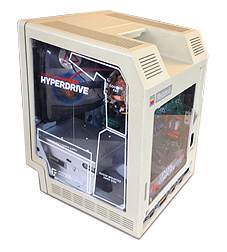 This is the place to highlight some of the custom or more unusual pieces in the collection, including:
• Apple Lisa 2 with X/Profile Compact Flash adapter
• Clear Sided Mac 512k, a former GCC HyperDrive demo model
• Macintosh Picasso Dealer Sign and packaging materials
• Apple eMate, end of the line for the Newton (but the start of the iBook)
• Gemini iBook, a custom touch screen Macintosh tablet for the disabled
• Axiotron Modbook, another Mac tablet mod for general industry
and a very special recent addition
• Mac OS X Developer Transition System, a Trojan horse PowerMac G5
As the Museum has expanded people often ask me "what are you still looking for"? I've acquired many of the standard Mac collectibles I wish to have, so usually my standard answer is something like "I'm not sure but I'll recognize it when I see it".
The Rare Items page is a good sampling of such objects. Take a look, and let me know what you think!