Spent some time this weekend managing the growing piles o' stuff which accumulate at the VMM. It's an ongoing challenge to make sure the collection doesn't outgrow me in my own home, and one of the reasons the Museum is not a comprehensive one of all pre-Intel Macs made.
I like to keep spares around of the models I collect, and have periodic tear-down sessions to extract key parts while reducing the volume of stuff to store. Once I have one or two complete models, I just tend to keep logic boards, power supplies, hard drives, floppies, RAM, etc.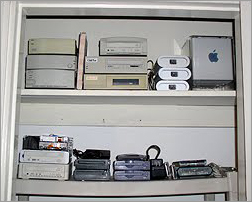 Some reorganizing this weekend allowed me to consolidate various external drives and peripherals into one shelving area, rather than scattershot among three rooms as before. I often need to reach for a Jaz or SyQuest drive (etc.) when doing file transfers for clients. Nice now to have a little library of peripherals for the pecking. Shown are some SCSI hard drives, SyQuest, CD-R, Jaz, Zip and USB floppy drives, plus a spare Cube with a few power supplies.
Also while digging through some boxes I finally found the AC adapter for a pair of AppleDesign Speakers I picked up years ago. These are colored PowerBook Battleship Grey, and include dual inputs for use with your computer and a CD drive or other device simultaneously. The AC plug's barrel is a non-standard size and I've been looking for an adapter for years. Had no idea I've had one all along!
These will become the new outputs for my MacTV, which has itself developed a garbled audio problem. Via the dual inputs I can also get them connected to an Airport Express for Music Streaming, and listen to the RetroMac Podcast whiile sitting amongst my old Macs.
That'll make 3 Airport Express boxes in the house – sort of a poor-man's Bang & Olufsen!
One response to "Managing the Growing Piles…"