Summer's winding down, and with the change in season come migrations of various sorts. One this year involves a friend and fellow Mac consultant who is moving out of state. He is heading West, and a few of his old Macs have migrated to the Vintage Mac Museum.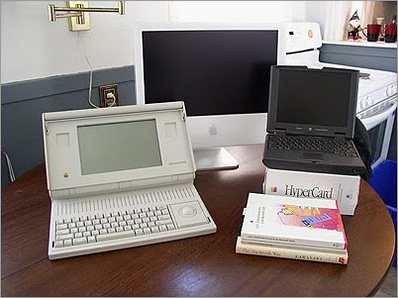 The first is a Macintosh Portable, Apple's initial attempt at freeing your Mac from your desk. At 16 pounds with included lead-acid battery, Portable is a questionable term at best for this puppy – it was known as the Mac Luggable in its day! The smaller, lighter PowerBook 100 series succeeded it and ushered in a long line of successful Mac laptops. Nevertheless the Portable is a seminal Classic Mac, and is actually a nice system to use when parked on a desk. This one will be a spare to the current model in the collection.
The second system is a PowerBook 2400c, about as small they came from Apple. Truly portable, this sub-notebook was a companion to the 1400 and 3400 but sold primarily in Japan; only limited quantities were available in the US and Europe. The system compares with the Duo 2300 but was more powerful, with a wider selection of ports. A desirable collector's model and another welcome spare.
The shrink-wrapped boxed copy of HyperCard was an added bonus!
Rounding out the trio is a 20″ iMac G5, a first generation model with removable back panel. This was a superb design for upgrades, just loosen three screws and lift the back off for access to the RAM, hard disk and motherboard. Apple trumpeted this feature when it came out, then summarily changed everything with the second generation and only made the RAM accessible. Sigh…
This iMac is definitely Not Portable, and currently isn't working at all; like most G5 iMacs it needs a new power supply, but the fix should be cheap. This is a model I don't yet have in the collection, so it's a nice addition. When repaired I plan to run a Lisa Emulator on the system – how fitting for the last all-in-one PowerPC Mac to run software from Apple's first all-in-one computer, the Mac's older sister!
A big thanks to Jeff Berg for his generous donations. Best of luck on your journey, my friend.