So here's a great story we just posted over at Cult of Mac that merges extreme cuteness with impressive geekdom. Appealing to Macintosh fans of all ages, I had to share it here: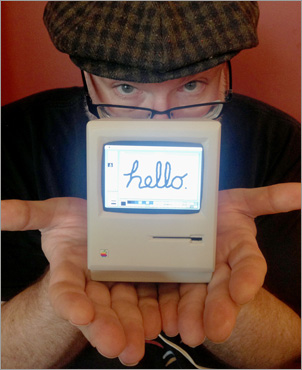 It stands shorter than a Steve Jobs doll. It can be held in the palm of your hand. It runs System 6, and elicits squeals of delight from vintage Mac fans.

It is the Smallest Mac in the World.

Hot on the heels of the news of the world's oldest working Macintosh comes a breakthrough of much more modest proportions. John Leake, co-host of the RetroMacCast, has created what may be the world's smallest working Macintosh using a Raspberry Pi computer, PVC, some off-the shelf parts and a Mac emulator running under Linux. He calls it "Mini Mac."

Why? As Leake writes on his blog, "this is one those 'because I can' projects with no practical use – my favorite kind!"
Read the full story at Cult of Mac: Behold the World's Smallest Working Macintosh!