Technology advances at a rapid clip, and what was once new and cutting edge becomes old relatively quickly. Many of us look back at old technologies with nostalgia for simpler times – or relief that they're gone – but for a small group of professionals old software holds much more current interest.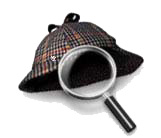 Patent lawyers frequently work on cases involving software that is at least one of two decades old. Apple is often involved in patent litigation – as both claimant and defendant – and needs information about old software to prove prior art claims. However the company doesn't keep many vintage Mac systems around hanging around The Mothership. Once or twice a year somebody contacts the Vintage Mac Museum looking for details about how certain functions of old Apple System Software worked: AppleShare, QuickTime AutoPlay, iTunes, etc..
Recently I heard from an attorney who is involved in a dispute about indexing hard drives for file searches. He was looking for details about Apple's rollout of this feature in the classic Mac OS: when were these services introduced, and how did they work? Specifically, could you create or update an index in real-time or on demand?
Apple introduced disk indexing as a feature of Sherlock, which debuted with Mac OS 8.5 in 1998. Sherlock offered the ability to index file names and their text contents for faster subsequent searches. The Mac OS warned that turning on indexing might take some time, and anyone who remembers Sherlock under Mac OS 8 or 9 knows that this was true! Disk indexing replaced the simpler Find File app and was a companion feature to a channel-based internet search system, which provided information on movies, weather, stocks and other types of online data.
In the Mac Museum a PowerBook 3400c has Mac OS 8.6 loaded, so I used this system for my tests. It took some time to get the old gal to show signs of life after a couple years of dormancy, a good ten minutes on the AC charger was needed before the system finally chimed and the hard drive began to spin up. Then I had two crashes during boot up, likely due to memory glitches, before I was able to successfully get to the desktop.
Once we were up and running I took screenshots of the Sherlock application windows. Drives get indexed when the feature is initially enabled for a disk, then can be updated on-demand or via a repeating schedule. My client was happy to hear this and asked for some additional screenshots showing the System Help files for Sherlock. I used our old friend COMMAND-SHIFT-3 to capture the screens, which still works to this day under Mac OS X. I did need to use PictureViewer, however, to convert the PICT images to JPEGs so that they could be viewed on a modern computer.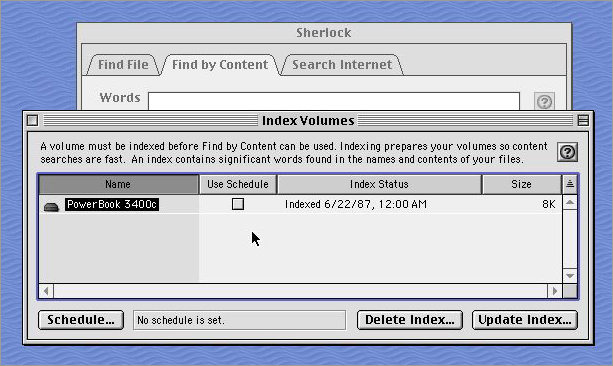 Sherlock hung around in various incarnations until Mac OS X 10.4, when it was replaced by Spotlight. Disk indexing now happens continuously on the fly, and the loss of the detective hat with magnifying glass icon in the dock was barely noticed by most users. But it's true what they say: one man's trash is another man's treasure. Especially when it's tech trash and there's a lawsuit involved!
One response to "Searching for Information About Sherlock"