Well the event was inevitable, but with the release of Mac OS X 10.6 "Snow Leopard" Apple has officially ended Operating System development for PowerPC Macs. There will be Security Updates and other patches issued for 10.5.8 "Leopard" for some interim period, but even those will eventually stop by the time Mac OS X 10.7 "Name Your Big Cat" arrives.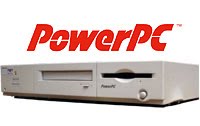 Apple's move to Intel processors has been a major business success, but longtime Mac users have a fondness in their hearts for the older models. PowerPC G3, G4 and G5 systems running Mac OS X 10.3 "Panther" or 10.4 "Tiger", along with Mac OS 9 in Classic mode, can run a wide variety of Mac software, from (some) 68k progams to many current OS X applications. For users on a budget, those still needing to run old software, or inheritors of hand-me-downs, the later PowerPC systems have years of useful life left.
G3 and G4 Macs are generally very reliable and cheap these days, often under $100. The iMac, eMac, PowerMac (beige and colored) and PowerBook models have held up well over time. Unfortunately G3 & G4 iBooks have had a variety of video and motherboard failures, so I'd avoid this series. My personal favorites are the iMac G3 DV (Ruby), iMac G4 17″ "iLamp", PowerMac G4 "Digital Audio", PowerMac G4 Dual 1.25GHz "MDD", PowerBook G3 "Wallstreet", PowerBook G3 "Pismo", PowerBook G4 "Titanium", and the 12″ PowerBook G4.
G5 Macs tend to cost a bit more – but hey, these were current until only a few days ago! Alas their reliability record is spottier as they age. Air-cooled G5 PowerMacs and XServes hold up well. Early G5 iMacs (particularly the 17″ model) frequently suffer from power supply and motherboard failures, and liquid-cooled G5 PowerMac towers sometimes tend to leak (also causing motherboard failures). Personal favorites are the 20″ iMac G5 and the Dual 2.3GHz G5 XServe.
OS-wise, if you need Classic (Mac OS 9) support, go with Mac OS X 10.4 "Tiger". If you don't need Classic, 10.5 "Leopard" will be most useful down the road (supported on 867MHz or faster G4 and all G5 systems). For sub-300MHz G3 models or anything older, I recommend Mac OS 9.
One unique thing about G-Series PowerPC Macs was their ability to Boot into Open Firmware, the BIOS of the day. Open Firmware allowed you to thoroughly zap PRAM, eject stuck CDs, and other support tricks. Intel Macs do not have these options, as they use EFI as the boot loader.
In the Vintage Mac Museum "Leopard" will be the last OS officially included, installed on one or two G5s when they eventually join their older brethren in the collection (currently I don't have any G5 models). The Intel Macs that I use for my consulting work will move on to Snow Leopard.
So here's to the future – but a hearty thanks to the PowerPC for all it has done, and will still do, for the Macintosh World!
One response to "The PowerPC Bows Out"