The Macintosh Plus was Apple's longest produced 68k Macintosh. It was introduced in January 1986 and discontinued in October 1990. During that timeframe Apple introduced a new design look for its products called the Snow White design language, exemplified in the striped case designs of the Macintosh II and SE. They also changed the case color from Beige to Platinum.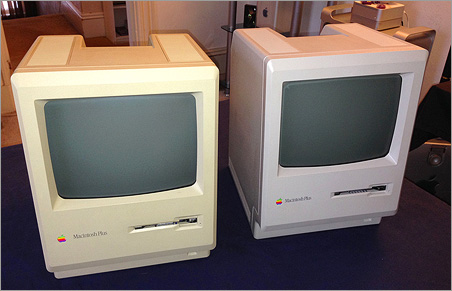 I recently acquired a pair of these Macs, one in each style. Side by side the color difference is quite notable. The very first Macs were beige in color (officially known as Putty), not quite as yellow as they've become today but still definitely a shade reminiscent of old khakis. The original Macintosh, Mac 512k and Mac Plus all used this color case. Then in 1987 Apple started using the lighter color they called Platinum.
Apple kept the Mac Plus around as the low end model when the SE was released (it was the cheap iPhone of its day), but they didn't want the system to look outdated next to newer machines. So Platinum it was. In addition to changing the color, as Apple began to offer 2MB and 4MB configurations, the label on the back dropped the 1MB memory designation. And the shipping box itself also changed, from one using a color product photo and six-color Apple logo to a black & white drawing and a red logo.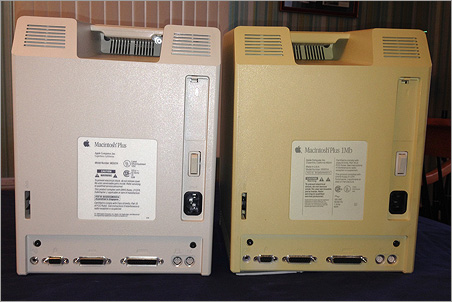 With SCSI and expandable RAM the Plus was the first truly successful Mac design. Many remained in service well into the PowerPC era. Today Apple would phase in a color change along with a new model release (e.g., the black iPhone becomes space grey), but back in the day things were a bit more casual.
What color is your Mac Plus?
10 responses to "When the Mac Plus Changed from Beige to Platinum"